Company "HERC GRADNJA" Ltd Bileća was founded in 1993 under a different name and that was the first time for it to appear in the field of construction.
In the first years the activity was reflected in executing minor construction works in the wider area of Herzegovina, as well as in production of aggregate and concrete. Our company started its work with a small number of people.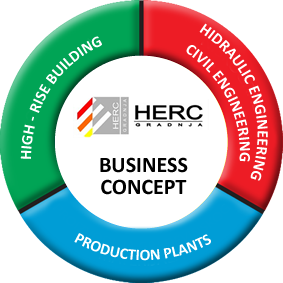 Year after year, the company has made a significant progress and therefore has developed into a powerful organization being ready to carry out all the construction tasks to be entrusted to it independently, with high quality and meeting the deadlines.
From its very beginning the company has been developing through different kinds of construction, adaptation and reconstruction works, as well as through construction of business and residential buildings. At present, it produces aggregate, concrete and concrete products and also possesses licenses for civil engineering construction, building construction and hydraulic engineering, as well as fully equipped construction operative units for performing all works from the domain of activity.
All of the previously acquired knowledge and experiences gained through working on significant facilities and business dealings have been taken in as significant capital and passed on to younger members of staff through the years.
High competence of the operative staff, together with the management of the company, enabled high quality performance of works in all conditions and according to the standards and requests of investors. That resulted in our company to become a recognizable brand and the acquired reputation is based on the extensive reference list of constructed facilities.
The company owns a quarry with a separation plant the capacity of which is 30 m3/h as well as three concrete plants. Two concrete plants have the capacity of 2x35 m3 and the third one has the capacity of 60 m3 of concrete per an hour. We also possess construction machinery and vehicles for production of stone aggregate, as well as for the production, transport and placing of concrete. Within the concrete plant there is also the plant for production of concrete blocks.
Based on its own capacities and potentials in the field of civil engineering construction and hydraulic engineering, as well as building construction using its own raw materials and manufacturing resources  for production of construction materials, "HERC GRADNJA" has completely closed the circle of essential and critical elements necessary for successful business dealings in construction industry sector at the highest level, at local and regional markets.
ISO 9001:2008

Since November 2011 this company operates an accordance with the standards ISO 9001:2008 and it is certainly one of the most qualified companies in the construction industry in wider surroundings, the proof of which is a series of successfully implemented projects in the previous period.